"My favorite Milly Taiden series is the Paranormal Dating Agency. Once again Gerri Wilder is working hard to match a good friend of hers that has just been jilted. Ok, so dragon shifters are my favorite shifter read but this one truly woven together a great love story with eminent danger to a mate. Emmy is a strong curvy heroine who finds acceptance with her body image. I would have loved to see her ex fiancé get what he deserved from Kingston. Spend sometime in Hawaii with this fabulous read!" —5 Stars from Nancy R., a GoodReads reviewer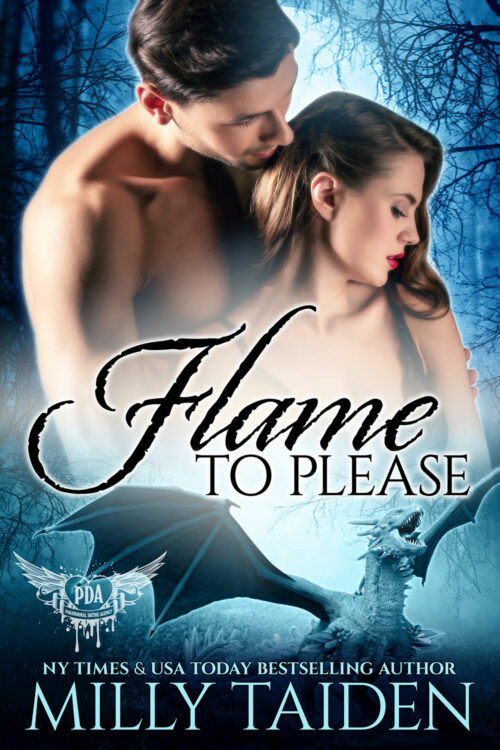 Flame To Please is now available!
Paranormal Dating Agency, Book 59

Kindle: US | CAN | UK | AUS
This book is included in your Kindle Unlimited subscription.
Romance writer Emmy Nelson cancels her wedding after finding the groom and her best friend doing the nasty. With the honeymoon to Hawaii paid in full, she packs her bags for a much-needed getaway. Little does she know that Gerri Wilder has a surprise for her. She was not expecting her surprise to be so…good looking.
When Kingston Conrad, heir to the Pacific Dragos Clan, gets a call from Gerri telling him that his mate is on the island, he thought he'd be excited, but he isn't. Leadership is a role he has avoided since his father's death. His currently happy life will change forever the moment his mating is complete. But how can he stay away from beautiful Emmy and her delightful smile? He can't.
Nothing and no one will keep Kingston from his future queen. Not even those in the clan who would resort to murdering a mate to keep him from taking the throne. He's ready to protect her to the death…hopefully not theirs.